My Blog
Posts for tag: dental implants
By Smiles by Turley
March 02, 2020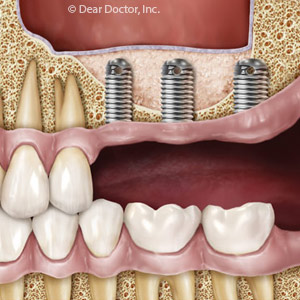 For a predictable outcome, a dental implant should be placed as soon as the bone and gum tissues following a tooth extraction have healed. But what happens if the tooth has been missing for months or years? You might then run the risk of not having enough bone to properly place an implant.
This can happen because of a disruption in the growth cycle of living bone tissue. As older bone cells dissolve (resorption), new bone develops to take its place. This is a dynamic process, as the amount and exact location of the new growth is in response to changes in the mouth, particularly from forces generated by the teeth as we chew. If, however, this stimulation transmitted to the bone no longer occurs because the tooth is missing, the bone will tend to dissolve over time.
In fact, within the first year after a tooth loss the associated bone can lose as much as a quarter of its normal width. This is why we typically place bone grafting material in an empty socket at the same time as we extract the tooth. This encourages bone growth during the healing period in anticipation of installing a dental implant or a fixed bridge. If, however, the bone has diminished to less than required for a dental implant, we must then use techniques to encourage new bone growth to support a future implant.
One such technique for restoring bone in the back of the upper jaw is to surgically access the area through the maxillary sinus (a membrane-lined air space within the bone structure of the face) positioned just over the jawbone to place grafting material. During surgery performed usually with local anesthesia, the surgeon accesses the sinus cavity, lifts the tissue membrane up from the sinus floor and applies the grafting material on top of the bone. Eventually, the new bone growth will replace the grafting material.
If successful, the new bone growth will be sufficient to support an implant. Thanks to this renewed growth, you'll soon be able to enjoy better function and a transformed smile provided by your new implant.
If you would like more information on forming new bone for implants through sinus surgery, please contact us or schedule an appointment for a consultation. You can also learn more about this topic by reading the Dear Doctor magazine article "Sinus Surgery."
By Smiles by Turley
May 27, 2019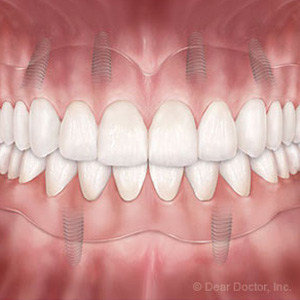 Even with modern prevention and treatment advances, losing teeth in later life is still a sad but common part of human experience. Just as generations have before, many today rely on dentures to regain their lost dental function and smile.
But although effective, dentures have their weaknesses. The most serious: they can't prevent jawbone deterioration, a common problem associated with tooth loss.
Bone health depends on chewing forces applied to the teeth to stimulate replacement growth for older bone cells. When teeth are gone, so is this stimulation. Dentures can't replicate the stimulus and may even accelerate bone loss because they can irritate the bone under the gums as they rest upon them for support.
But there's a recent advance in denture technology that may help slow or even stop potential bone loss. The advance incorporates implants with dentures to create two hybrid alternatives that may be more secure and healthier for the supporting bone.
The first is known as an overdenture, a removable appliance similar to a traditional denture. But instead of deriving its support from the gums alone, the overdenture attaches to three to four implants (or only two, if on the lower jaw) that have been permanently set into the jawbone. This not only increases stability, but the implants made of bone-friendly titanium attract and foster increased bone growth around them. This can help slow or even stop the cycle of bone loss with missing teeth.
The second type is a fixed denture. In this version, four to six implants are implanted around the jaw arch. The denture is then secured in place to these implants with screws. It's a little more secure than the overdenture, but it's also more expensive and requires good quality bone at the implant sites.
If you've already experienced significant bone loss you may first need bone grafting to build up the implant sites for these options, or choose traditional dentures instead. But if you're a good candidate for an implant-supported denture, you may find it provides better support and less risk of continuing bone loss than traditional dentures.
If you would like more information on implant-supported dental restorations, please contact us or schedule an appointment for a consultation. You can also learn more about this topic by reading the Dear Doctor magazine article "Overdentures & Fixed Dentures."
By Smiles by Turley
October 09, 2018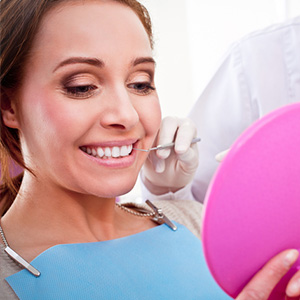 Are you interested in dental implants but a little hesitant about the surgery? Don't be—this procedure to imbed an implant's titanium post in the jawbone is relatively minor with little to no discomfort for most patients.
Some time before, however, we'll need to pre-plan the surgery to pinpoint the best location for the implant, critical to achieving a solid hold and a life-like appearance. During these first visits we often create a surgical guide, a device inserted in the mouth during surgery that identifies the exact location for the hole (or channel) in the bone we'll drill to insert the implant.
On surgery day, we'll prepare you for a pain-free and relaxing experience. If you're normally anxious about dental work, we may prescribe a sedative for you to take ahead of time. As we begin we'll thoroughly numb the area with local anesthesia to ensure you won't feel any pain.
The surgery begins with an incision through the gum tissue to access the underlying bone. Once it's exposed, we'll insert the surgical guide and begin a drilling sequence to gradually increase the size of the channel. This takes time because we want to avoid damaging the bone from overheating caused by friction.
Once we've created a channel that matches precisely the implant's size and shape, we'll remove the implant from its sterile packaging and immediately fit and secure it in the channel. We'll then take x-rays to ensure it's in the best position possible.
Satisfied we've properly situated and secured the implant, we'll suture the gum tissue back in place to protect the implant with or without attaching a healing abutment to it as it fully integrates with the jawbone over the next few months (after which you'll come back to receive your permanent crown). After a short recovery, you'll return to full activity. Most patients only experience mild to moderate discomfort usually manageable with over-the-counter pain medication like aspirin or ibuprofen.
While implantation is a long process, you'll be obtaining what's considered by most dentists and their patients as the most durable and life-like tooth replacement available. Your new attractive smile will be well worth it.
If you would like more information on dental implants, please contact us or schedule an appointment for a consultation. You can also learn more about this topic by reading the Dear Doctor magazine article "Dental Implant Surgery: What to Expect Before, During and After."