My Blog
Posts for tag: pediatric dentistry
By Smiles by Turley
January 22, 2020

When you're expecting a new baby, there's a lot to prepare: outfitting the nursery, stocking up on diapers or choosing a pediatrician. It's also not too early to consider how to protect your new child's dental development.
From birth through adolescence, a child's mouth goes through a whirlwind of growth. Hopefully, it all follows a normal track, but detours can arise like tooth decay or bite problems.
Here are 4 things you can do to keep your child's dental development on track.
Start oral hygiene before teeth. Daily oral hygiene is essential toward helping your child avoid tooth decay. And don't wait for teeth to come in—begin wiping their gums with a clean, damp cloth right after nursing. When teeth do appear, switch to brushing with just a smear of toothpaste and then add flossing as more teeth come in.
Begin regular dental visits. The American Dental Association recommends pediatric dental visits around the first birthday. The possibility of tooth decay becomes a concern around this time as the primary teeth are steadily erupting. Starting earlier rather than later may also help your child adjust to the routine of dental visits that they'll most likely carry on as they get older.
Control their sugar consumption. Because sugar is a prime food source for disease-causing bacteria, you should keep your child's sugar consumption as controlled as possible. For example, don't put a baby to bed with a bottle filled with a sugary liquid (including juice and breast milk)—the constant presence of the liquid during nap time encourages bacterial growth and acid production.
Get an orthodontic evaluation. While we often associate orthodontic treatment with the teen years, it may be possible to head off bite problems earlier. So, see an orthodontist for a bite evaluation when your child is around age 6. If there are signs of a developing problem, certain techniques could help stop or slow them from getting worse, helping you avoid extensive and expensive treatment later.
With a newborn coming, you and your family have a lot on your plate. Be sure, though, not to forget making plans for keeping their teeth and gums healthy.
If you would like more information on dental care for your child, please contact us or schedule an appointment for a consultation. You can also learn more about this topic by reading the Dear Doctor magazine article "Age One Dental Visit."
By Smiles by Turley
December 23, 2019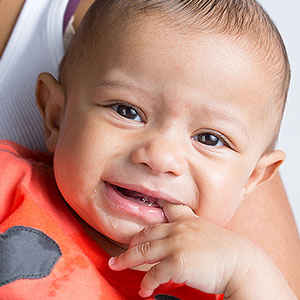 Your sweet, good-natured baby has seemingly gone from zero to grumpy overnight. The reason is simple: They're teething.
Teething is a natural process in which a baby's first teeth (primary teeth) begin to break through the gums, usually between six and nine months of age. This process continues intermittently until all twenty of the primary teeth erupt, sometime around age 3.
This uncomfortable and sometimes painful experience can cause gum swelling, biting and gnawing, chin rash and drooling. Your child may become irritable not only from this physical discomfort but also from disrupted sleep patterns and decreased appetite that often accompanies teething.
While you may have an unhappy baby while they're teething, there's usually no cause for concern. This is a natural process all children encounter, and the best thing you can do is make them as comfortable as possible. An exception would be accompanying diarrhea, fever or lingering crankiness—these could be symptoms of a more serious condition. If you begin to notice these, consult your doctor as soon as possible.
During teething there are a number of things you can do to reduce irritation. For one, allow your child to chew on clean, chilled (not frozen) teething rings, or a cold wet washcloth. The cold will help numb their irritated gum tissues. Massaging their gums with a clean finger can also help counteract the pressure caused by the incoming tooth.
If your doctor advises, you can also give your child over-the-counter pain relievers like acetaminophen or ibuprofen in an age-appropriate dosage. But be sure you give these medications orally and not rub them on the gums—some ingredients in them could burn the tissues. You should also not apply rubbing alcohol to the gums for the same reason. And avoid products with the numbing agent Benzocaine® in children less than two years of age unless your doctor advises otherwise.
Teething isn't always a pleasant time for your baby or you, but it's necessary—and temporary. In no time at all this discomfort will pass, and in its place will be their first set of teeth.
If you would like more information on teething, please contact us or schedule an appointment for a consultation. You can also learn more about this topic by reading the Dear Doctor magazine article "Teething Troubles: How to Help Keep Your Baby Comfortable."
By Smiles by Turley
August 15, 2019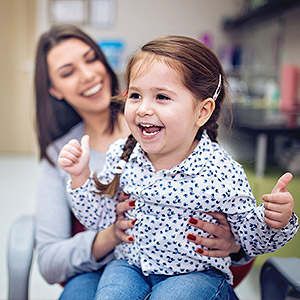 Pediatricians and dentists alike recommend beginning your child's regular dental visits at an earlier age rather than later. Most say children's first visits should happen around their first birthday.
Some may question whether that's necessary given the state of a child's dental development at that age. At that stage they normally have only a few primary teeth, which will eventually give way to their permanent set soon enough.
But regular dental visits can make a positive difference even at that early age. Here are 3 oral health areas that could benefit from seeing the dentist by Age One.
Protecting primary teeth from decay. It's true that primary teeth don't last long when compared to a normal lifespan. But during their short tenure, they do play a critical role in a child's health and development. Not only do they provide a child dental function for eating, speaking and smiling, they also preserve the space for the permanent teeth that will succeed them. Without them, permanent teeth can erupt out of position to form a poor bite (or malocclusion). That's why early dental care to prevent and treat decay in primary teeth helps them remain for as long as they should.
Detecting developing malocclusions. A malocclusion doesn't form overnight—there can be subtle signs of its development during early childhood. A dentist, especially a pediatric dentist or orthodontist, can often detect those signs before the malocclusion fully develops (one reason why every child should have an orthodontic evaluation around age 6). With early detection, an orthodontist can use interventional techniques that will lessen or even stop a malocclusion from forming. As a result, later orthodontic treatment may not be as extensive—or expensive—as it could have been.
Developing a healthy dentist-patient relationship. Dental anxiety is a real problem for many adults—in some cases it can be so severe they avoid professional dental care altogether. The roots of that dental fear often go back to unpleasant experiences during childhood. Starting dental visits when a child is very young appears to minimize the development of dental anxiety. A young child, especially visiting a "kid-friendly" dental clinic, will more likely view dental care as a routine part of life and will less likely be afraid.
If you would like more information on dental care for children, please contact us or schedule an appointment for a consultation. You can also learn more about this topic by reading the Dear Doctor magazine article "Age One Dental Visit: Why It's Important for Your Baby."