My Blog
Posts for: April, 2021
By Smiles by Turley
April 18, 2021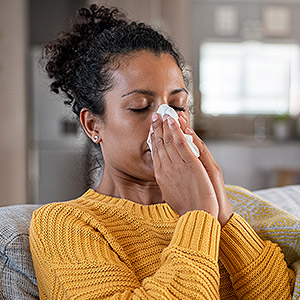 If you suffer frequent sinus infections, you might want to see a dentist. No, really—your recurring sinusitis might stem from a decayed tooth.
Tooth decay can start as a cavity, but left untreated can advance within the tooth and infect the pulp and root canals. If it reaches the end of the root, it can cause the root tip and surrounding bone to break down.
A severe toothache is often a good indicator that you have advanced tooth decay, which can usually be stopped with a root canal treatment.  But a decayed tooth doesn't always produce pain or other symptoms—you could have a "silent" infection that's less likely to be detected.
A symptomless, and thus untreated, infection in an upper back tooth could eventually impact the maxillary sinus, a hollow air-filled space located just above your back jaw. This is especially true for people whose tooth roots extend close to or even poke through the sinus floor.
That "silent" infection in your tooth, could therefore become a "loud" one in the sinuses causing chronic post-nasal drip, congestion and, of course, pain. Fortunately, a physician or an ear, nose and throat (ENT) specialist might suspect a dental origin for a case of recurring sinusitis, a condition known as maxillary sinusitis of endodontic origin (MSEO).
Antibiotic treatment can clear up sinusitis symptoms short-term. It's unlikely, though, it will do the same for a dental infection, which may continue to trigger subsequent rounds of sinusitis. The best approach is for a dentist, particularly a specialist in interior tooth disease called an endodontist, to investigate and, if a decayed tooth is found, treat the source of the infection.
As mentioned earlier, the solution is usually a root canal treatment. During this procedure, the dentist completely removes all infected tissue within the pulp and root canals, and then fills the empty spaces to prevent future infection. In one study, root canal therapy had a positive effect on alleviating sinusitis in about half of patients who were diagnosed with a decayed tooth.
If your sinusitis keeps coming back, speak with your doctor about the possibility of a dental cause. You may find treating a subsequently diagnosed decayed tooth could alleviate your sinus problem.
If you would like more information on how your dental health could affect the rest of your body, please contact us or schedule an appointment for a consultation. You can also learn more about this topic by reading the Dear Doctor magazine article "Sinusitis and Tooth Infections."
By Smiles by Turley
April 08, 2021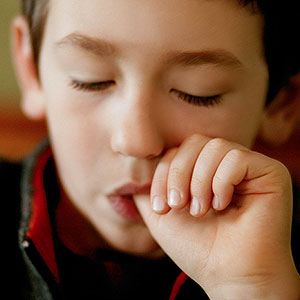 There are many things to be concerned about with your infant. Thumb sucking shouldn't be one of them—at least not yet. Practically universal among young children, the habit normally fades by age four with no real harm.
If it persists beyond that age, however, it can lead to a poor bite (malocclusion). Late thumb sucking may also have a connection with another problem—the inability of a child to transition from an infantile swallowing pattern to an adult pattern.
A baby while swallowing thrusts their tongue forward to help create a seal around a breast or bottle nipple during nursing. This normally changes about age 4, though, to a positioning of the tongue against the roof of the mouth when swallowing. But if they don't transition and continue to thrust the tongue forward, it can place undue pressure on the front teeth and cause them to develop too far forward.
The result may be an open bite, in which a gap exists between the upper and lower teeth even when the jaws are shut. An open bite can also happen with late thumb sucking, but instead of the tongue, their thumb presses against the teeth.
As to thumb-sucking, parents should encourage their child to stop the habit beginning around age 3, if they haven't already begun to do so. The best approach is to use some form of positive reinforcement such as praise or treats. The sooner the habit ceases after age 4, the lower their risk for developing an open bite.
You may also need to be alert to continued tongue thrusting while swallowing, which may still continue even after they no longer suck their thumb. In that case, your child may need orofacial myofunctional therapy (OMT), a series of exercises directed by a trained therapist to retrain the muscles involved with swallowing. This therapy could further help a child properly transition to an adult swallowing pattern.
Open bites can be corrected orthodontically later in life. But by being alert to your child's oral habits, as well as the way they're swallowing, you and your dentist may be able to intervene and eliminate or at least lessen the development of this type of problem bite.
If you would like more information on how to manage thumb sucking, please contact us or schedule an appointment for a consultation. You can also learn more about this topic by reading the Dear Doctor magazine article "How Thumb Sucking Affects the Bite."